Embark on Memorable Journeys with our Private Boat Charters
Take your loved ones to indulge in a truly luxurious escape by private boat. Craft your ideal Maldivian boat trip and create timeless memories while island hopping or rejoice over a glass of Champagne as you bathe in the vibrant hues of sunset.
Luxury Yacht
Experience true luxury with Norma, our new Azimut flybridge 66 yacht. Embark on a journey to the atoll's most beautiful diving spots, lounge on the spacious sundeck or gather your loved ones for an enchanting overnight stay floating on the starlit waves. For more information on private yacht chartering at The St. Regis Maldives, please visit our dedicated page or book to stregis.maldivesvommuli@stregis.com
Speed boat
Experience an exhilarating fleetness as discover the atoll in one of our modern speed boats and explore the surrounding islands.
Dhoni
Immerse yourself in the local way of living on a private dhoni cruise, the traditional fishing boat of the Maldives. This charming and iconic wooden boat is the vessel of choice by both locals and tourists to explore the atoll's beautiful islands and turquoise waters in style.
Parasailing boat
Glide across the crisp Maldivian air as you are tethered to a parasailing boat and enjoy a picturesque aerial vista of Dhaalu Atoll. This breathtaking watersport activity requires no training and combines the excitement of acceleration with scenic views of the Indian Ocean, taking your vacation to new heights.
Catamaran
Sail the waters of the Indian Ocean in a catamaran, and discover the nearby reefs and sandbanks as you follow the wind.
Compliment your private boat charter with fishing, snorkeling or with a private dining arrangement for an extraordinary experience out on the ocean.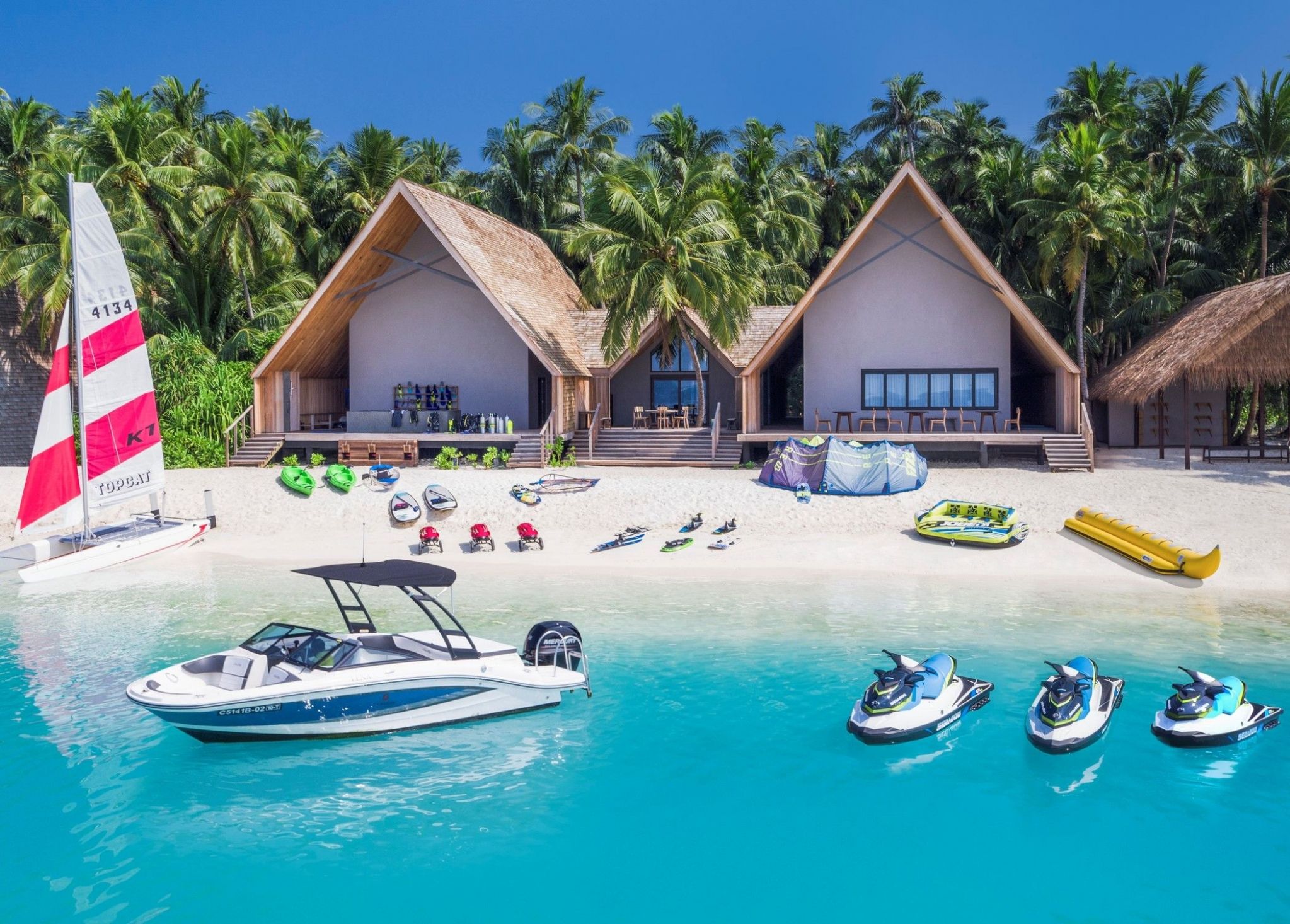 Island Hopping
Uncover your private sanctuary for the day and unwind on one of the many pristine white beaches of nearby uninhabited islands and sandbanks. For an authentic Maldivian experience sail to one of our sensory neighboring islands and taste the local cuisine, purchase handcrafted souvenirs and experience the coveted Maldivian hospitality.
Reservations are recommended and can be made directly with Vommuli Dive and Watersports Centre. Please check our list list of watersport activities & excursions for pricing and chartering details.